For the first time since I decided to do screenshots on Monday, there's a screenshot! This shows the shop screen from Skies of Fire, which I will now guide you though.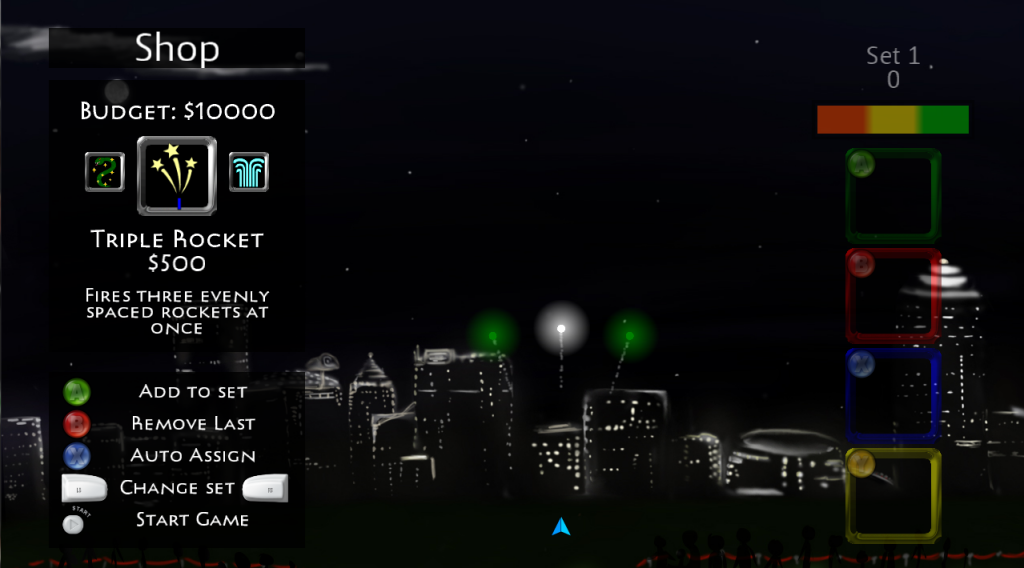 The shop in Skies of Fire is where you buy your fireworks before each display. You have a set budget and you need to separate this out over your different sets. You can choose four different types of firework and which button (and colour) you assign each firework to.
The shop will give you all of the necessary information, the icon that the firework will have in the sidebar, the name of it, a short description and its cost. In the middle of the screen, there's also a demonstration of the firework, so you know exactly what the firework will do.
The auto-assign option will take away any effort and choose your fireworks for you. There are some biases in the auto-assign, such as spending more in the final set and including the most recently unlocked fireworks. If you're really lazy, there's an option in the settings that will skip the shop and always auto-assign your fireworks. This is not-advised unless you want to save time, each player will have their own display styles and will have their own selection of fireworks that they'll like to use.
Also, along the right is the redesigned sidebar (last seen on top of a large ugly block in the winter showcase). It now has no background and is semi-transparent to add to the ethereal feel of the game.